Expert's words: Florine Fouquart, Blender and Maya expert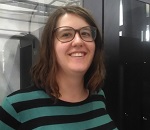 Impassioned by Open Source software, Florine Fouquart has been an enthusiastic Blender user for many years. On the strength of her experience creating a web series fully produced with Blender, she has worked on the implementation of this software on the RANCH.
To what extent did you consider that it was important for RANCH Computing to ensure that its services were made accessible to the Blender community?
Blender is a powerful software which is, according to me, equivalent to the ones on the market. Thus, it needs powerful calculation resources as much as the other software. That is the reason why many studios and free-lancers would benefit from using Blender. Supplying a rendering service for this software allow the CG artists to have a fuller and more professional use of Blender. Hence I am confident that it will bring clear added value to the artists' works.
Blender is a community. How do you contribute to it?
I regularly lead conferences in Open Source software events such as the "Capitol du libre" in Toulouse, France. Moreover, I also teach some students in Paris VIII university.
As part of the Blender implementation on the RANCH, I will contribute by providing development: I take part in the software evolution thanks to a collaborative partnership with the Blender Foundation.
As for now, you are a developer for RANCH Computing specialised in Blender and Maya. What are your creative activities when you're off work?
I often take part in events such as Demoparty: in this type of event, programers and CG artists form a group in order to create generative art –that is to say the type of art that can be generated thanks to computer programmation. I also create animations with shadercoding –which is a language that allow to produce real time videos. Moreover, I still stick to my first love by designing with Blender for my own pleasure!